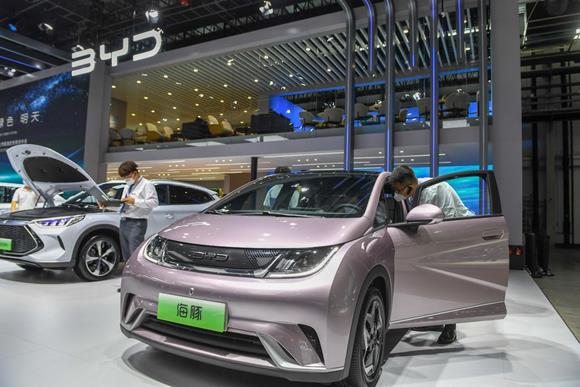 People visit the exhibition area of BYD, China's new energy vehicle manufacturer, during the 19th China (Changchun) International Automobile Expo in Changchun, capital of Northeast China's Jilin province.
China's leading new energy vehicle manufacturer BYD posted a 3.6 billion yuan ($520.56 million) net profit between January and June, up 206.35 percent year-on-year, The Paper reported.
Revenue came in at 150.61 billion yuan, up 65.71 percent on a yearly basis.
Its sales of NEVs, including pure electric vehicles and plug-in hybrid electric vehicles, surged 314.9 percent year-on-year to over 640,000 units in the January-June period.
As the supply chain returns to stability, both the supply and demand sides of the automobile sector are expected to drive up NEV sales again in the second half of this year, the Shenzhen-based company said in its mid-year financial report.
The automobile business made a bigger contribution to BYD's total revenue.
During the first six months, the company's revenue from automobile and related products rose 130.31 percent to 109.27 billion yuan. The auto business accounted for 72.55 percent of its total revenue, compared with 52.2 percent a year ago.
BYD also put more efforts in research and development of new project in the Jan-June period, with R&D expenditure up 46.63 percent to 6.47 billion yuan.