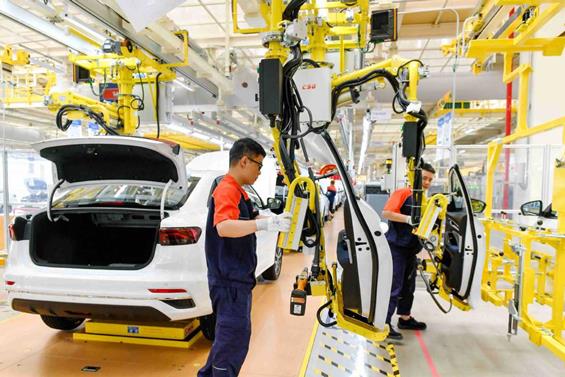 China's call to advance the sound growth of the digital economy, including the industrial internet, will drive the digital transformation of manufacturing sectors for higher-quality growth, industry insiders and company executives said.
They spoke after China's top leadership recently emphasized the importance of promoting the digital economy's development, saying that it is strategically significant to seize new opportunities from the latest scientific and industrial revolution.
The leadership called the digital economy a key force in restructuring the global economy and transforming the competitive landscape. The internet, big data, cloud computing and other technologies are being increasingly integrated into all sectors of economic and social development.
The nation was called on to help further digitize the manufacturing, services and agricultural sectors and to transform traditional industries with new internet technologies. Digital technologies should play an enhanced role in promoting economic development, top leaders said at a recent meeting.
"To drive the goal, more efforts should be made in the development of the industrial internet to optimize the traditional industrial process, which will greatly improve production efficiency," said Ni Guangnan, an academician at the Chinese Academy of Engineering. "Over the long term, it will boost the competitiveness of China's manufacturing on the global stage."
The industrial internet refers to the broader adoption of advanced technologies such as next-generation wireless networks, big data, artificial intelligence and the internet of things. The internet of things refers to a network of devices, vehicles and other objects that contain software or sensors allowing them to connect.
According to the Ministry of Industry and Information Technology, China has already nurtured over 80 industrial internet platforms that have regional influence, with related applications covering over 30 key industries. More than 350,000 industrial companies' applications are connected to cloud platforms.
Yao Wei, president of Hangzhou-based Transfar Zhilian Co, said that the integration of the industrial internet and 5G will greatly reduce costs and increase efficiency for manufacturing.
"Manufacturing companies have a need for more complete digitalization with the advancement of emerging technologies such as 5G, big data and artificial intelligence," Yao said. "But what remains unchanged is their need to reduce costs and increase efficiency, as they look for even more business expansion through digital transformation."
Transfar Zhilian offers not only logistics information services and software but also provides fuel, tires, warehousing, transportation and specialty chemical products.
To meet its needs, Yao said the company has applied a series of technologies such as 5G, big data and cloud computing to build an industrial internet platform. Together with more than 100 offline logistics centers across the country, the firm offers end-to-end supply chain services to companies to help them boost efficiency, he said.
In the automobile and its aftersales industries, the company used digital technology to offer a unified warehouse supply of such items as tires and lubricants.
"Also, with the industrial internet platform, if the sales of tires in a certain area are particularly good, we can tell other related companies to replenish and distribute goods at just the right time," he said.
Zhou Yunjie, president of home appliance giant Haier Group, said the industrial internet will help deepen digital applications in manufacturing, operational management and market services, and will help cultivate and develop new models such as personalized customization and flexible manufacturing.
The company has developed COSMOPlat, a first-of-its-kind industrial internet platform that helps companies in many fields to offer customized services. Using the platform, all industrial processes, including receiving orders, scheduling production, preparing materials, manufacturing, warehousing and delivery, can be digitalized.
While the home appliance industry revenue in the United States declined last year due to challenges from the COVID-19 pandemic, Haier hit record highs in revenue and profit. Haier's COSMOPlat is also being tested in other countries, such as by appliance maker Fisher& Paykel in New Zealand and Japanese electronics manufacturer Sanyo.
"This is the advantage of COSMOPlat, and it also benefits Chinese smart manufacturing in the global industrial internet field," Zhou said.