On July 6, SAIC Motor and QingTao (Kunshan) Energy Development Co., Ltd. ("QingTao Energy") signed an agreement to inaugurate a joint lab dedicated to R&D of solid-state batteries, the Shanghai-based auto giant announced via its WeChat account.
Through the new lab, both parties will co-work on the mass production and applications of the solid-state power battery capable of over 1,000 kilometers of range and the development of 4C fast charging technology dedicated to solid-state battery.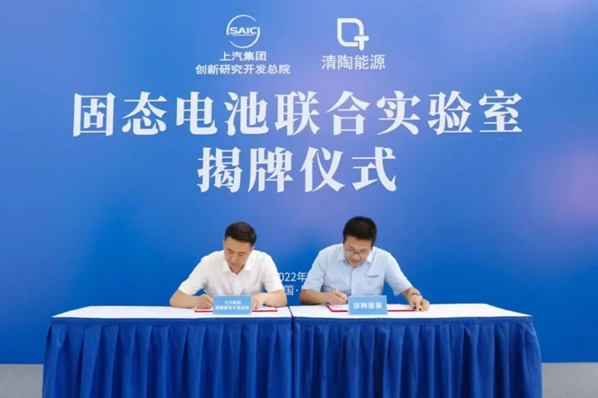 SAIC Motor, QingTao Energy signing agreement
Besides, the duo will also team up on developing solid-state battery with high safety and long service life, and the high-efficiency solid-state battery integration technology.
Under the plan, the long-range solid-state battery co-developed by both parties will be first installed in the new models under SAIC Motor's self-owned brands next year.
Located in Kunshan, Jiangsu province, QingTao Energy focuses on the industrialization of new energy material technologies and takes the lead in realizing the industrialization of solid-state lithium battery through in-house development of key lithium battery materials, innovative design of equipment, and optimization of mass production process, according to the corporate description posted on the company's website. It constructed the first solid-state lithium battery production line in China.
SAIC Motor took part in the E+ and F++ rounds of QingTao Energy in Jun. 2020 and Jan. 2022, respectively.