An autonomous driving vehicle labeled with stickers from China's smartphone giant Xiaomi was spotted on road recently, according to a photo posted on Chinese social media Weibo.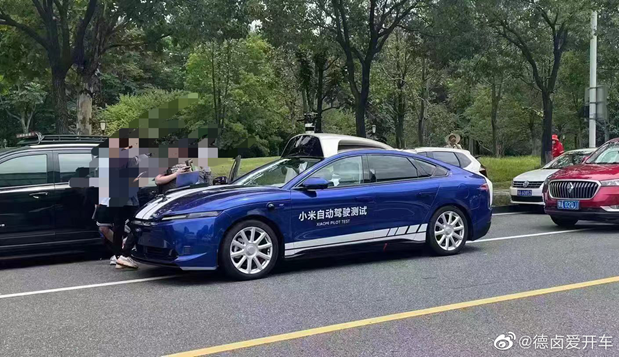 The photo, provided by user @Delu Ai Kaiche, showed a blue sedan parked on the side of the road and was in the middle of a suspected road test round. The vehicle has a LiDAR system on the roof and stickers on the side that says "Xiaomi Autonomous Driving Test" in Chinese and "Xiaomi Pilot Test" in English.
Despite Xiaomi's widely anticipated automaking progress, the testing vehicle in the photo is deduced to be a BYD Han EV for its high resemblance.
Notably, not long ago, Xiaomi Automobile Technology Co., Ltd., one of the automaking entities of Xiaomi has made three of its auto-related patent applications public, two of which were in the autonomous driving field. One involves a vehicle control method, device, medium, chip, electronics, and the car, while the other one is described as an image processing method, device, vehicle, and readable memory medium.
Up to now, Xiaomi has made over a dozen automotive patents public, nearly half of which were intensively applied in 2022. According to the new auto player's previous plans, it will pour in $10 billion into automaking in a decade, striving to build its own auto empire.