Volkswagen-backed CAMS eyes deployment of 17,000 charging points in China by 2025
CAMS, Volkswagen Group's joint venture in China focusing on offering one-stop charging solutions, aims to have 17,000 charging points by the end of 2025, with its charging footprints covering most cities in China, the company said on July 11 at an online event.
Since the launch of the first super-charging station in January 2020, CAMS has so far expanded its charging network in 100 cities across China, including 760 supercharging stations and more than 7,000 charging points. It has to date offered 2.6 million sessions to more than 600,000 electric vehicle users.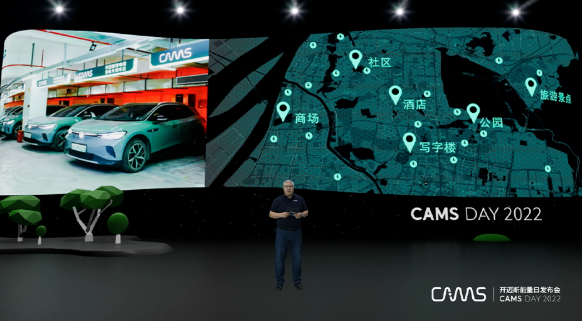 At the event, CAMS said it planned three phases for the company's development track. In 2021, CAMS sailed through the first phase, where it built a set of standards for its charging services, and was aimd the transition toward the second phase themed digitalization. In 2022, the company has comprehensively advanced into the third stage, namely, intellectualization.
CAMS gave a preview about its future technical upgrades, saying its automatic charging system will integrate such cutting-edge technologies as high-power charging, visual identity, bionic intelligence, functional safety, and IoT (Internet of Things).
In terms of home charging business, CAMS said it will launch a new function that allows owners of private charging piles to share the charging park lot with other car owners for profit.