Chinese electric vehicle startup Nio is to introduce three new EVs based on the Nio Technology Platform 2.0 this year, bringing the total number of its models to six, its founder and CEO William Li said on Thursday.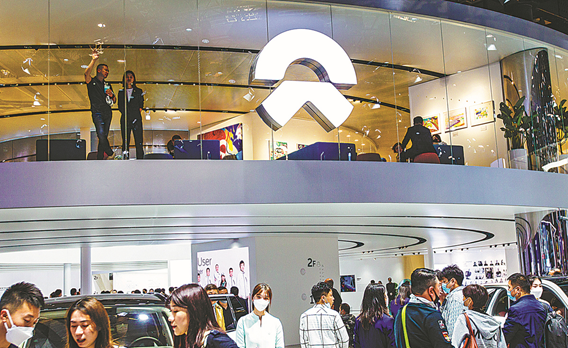 The first model based on the platform is ET7 sedan, which will start being delivered on March 28. Deliveries of the ET5 sedan is expected to start in September this year.
The carmaker plans to release the first SUV model based on the platform ES7 recently, which will be delivered in third quarter this year, Li said.
He made public the production plan when the carmaker released its financial performance for 2021.
"We concluded the year of 2021 on a strong note with an annual delivery of 91,429 vehicles in total, representing an increase of 109.1 percent year-over-year, despite all the challenges including the supply chain volatilities in particular," said Li.
Wei Feng, Nio's CFO said: "With steadily increasing deliveries, a stable average price and improved manufacturing efficiency, we have achieved solid financial performance for the fourth quarter and full year of 2021 with the vehicle margin reaching 20.1 percent."
Its total revenues were 36.14 billion yuan ($5.67 billion) last year, representing an increase of 122.3 percent from the previous year. Gross profit was 6.82 billion yuan in 2021, a year-on-year increase of 264.1 percent, while the net loss was 4.02 billion yuan, down 24.3 percent compared with 2021.
The startup started trading in Hong Kong earlier in March. It launched its IPO in the United States in September 2018.
Nio delivered 9,652 vehicles in January and 6,131 vehicles in February, representing a growth of 34 percent and 10 percent year-on-year, respectively.
The carmaker expects to deliver a total of 25,000 to 26,000 vehicles in the first quarter of this year because of the pandemic and chip shortages.
"2022 will be a year of reacceleration for Nio. We will deliver three new products based on the Nio Technology Platform 2.0 this year," Li said.
On top of its growing user base in China, Nio expanded its global market with the launch and delivery of Nio vehicles in Norway in September 2021.
It plans to offer products and services in more countries and regions this year, including Germany, the Netherlands, Sweden and Denmark.