Beijing is moving toward green and low-carbon development of the energy sector, Lai Xianyu, deputy head of the Beijing Commission of Development and Reform, said during a news briefing held earlier this month.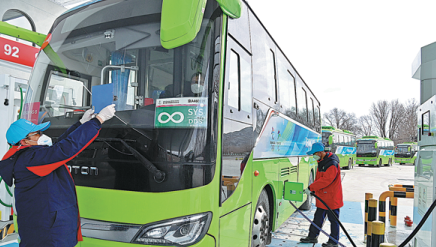 It continues the optimization of energy structure by strictly controlling the total amount of coal consumption during the 14th Five-Year Plan period (2021-25), Lai added.
The city recently issued a new plan as its overall blueprint and action program for energy development for 2021-25.
The plan is of great significance to ensuring a safe and stable energy supply in the capital, encouraging the green, low-carbon and intelligent transformation of the city's energy sector, facilitating the construction of green Beijing, and promoting its high-quality economic growth, local officials said.
The plan has laid stress on four aspects, one of which is to pursue a safer and more reliable energy development model.
According to it, Beijing will build a number of cross-regional key electricity and gas projects, and formulate energy systems that are interconnected and offer mutual assistance. By 2025, the city's power supply reliability rate is expected to reach close to 100 percent, and it will form emergency reserves of about 1.4 billion cubic meters of natural gas.
Beijing will also focus on green and efficient use of energy, replacing coal with clean energy. It will strengthen the control of the quantity and intensity of energy and carbon emissions, with the emission reduction focuses changing from projects and industrial restructuring to urban operation and people's ways of life.
In the past five years, Beijing has achieved remarkable success in improving its energy consumption structure. The city's coal consumption had been massively reduced from more than 11.65 million metric tons in 2015 to 1.35 million tons in 2020, with the proportion of high-quality energy increased from 86.9 percent to 98.5 percent.
In 2021, the city's renewable energy utilization accounted for more than 10 percent of its energy consumption, up from 4.4 percent in 2012.
As of 2025, the city will add about 2.1 million kilowatts of newly-installed renewable energy power generation capacity, as well as 45 million square meters heated by renewable energy. Also, the use of renewable energy in Beijing will account for more than 14 percent of the total energy consumption in 2025, according to the plan.
Beijing also plans to accelerate efforts to tackle key technological problems and promote green and low-carbon applications pertaining to advanced renewable energy, new power systems and hydrogen fuel cells, in a bid to promote the integrated development of new energy technologies and smart city.
Other actions the plan has mentioned include strengthening the construction of energy regulation and standard systems, deepening the reform of energy pricing mechanisms, improving green and low-carbon fiscal and tax policies, and innovating market-based mechanisms for green energy development.
To realize the goals of the plan, the Beijing government has set up 81 major tasks for energy development and put forward a list of key energy projects with a total investment of 186.6 billion yuan ($29.3 billion).
The city aims to raise the proportion of new and renewable energy utilization in its energy consumption to 20 percent by 2035.