CATL scored a 159.06% year-on-year surge in the full-year revenue of 2021, which stood at around 130.356 billion yuan ($20.206 billion), according to the company's annual earnings results.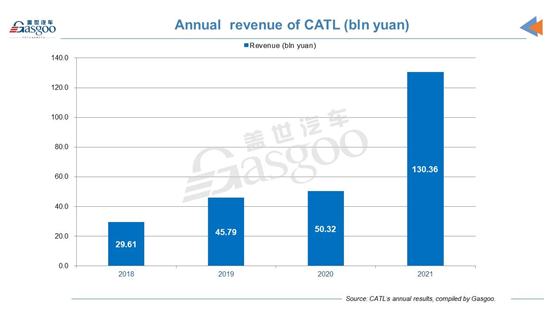 CATL said it has developed a pretty broad client base for its power battery business and formed in-depth partnerships with such renowned automakers as Tesla, Hyundai, Ford Motor, Mercedes-Benz, Great Wall Motor, Li Auto, and NIO. Notably, Tesla for the first time became CATL's biggest clients with a confirmed transaction value of 13.039 billion yuan ($2.021 billion), accounting for 10% of CATL's total revenue.
During the reporting period, CATL's net profit attributable to shareholders also zoomed up 185.34% from a year ago to about 15.931 billion yuan ($2.469 billion). After deduction of non-recurring profit and loss, the net profit belonging to shareholders reached 13.442 billion yuan ($2.084 billion), soaring 215.2% compared to 2020.
Besides, the company's annual results also show that its net cash flow generated by operating activities amounted to 42.908 billion yuan ($6.651 billion) in 2021, shooting up 132.82% from the previous year. The yearly basic earnings per share stood at 6.876 yuan ($1.07), versus the 2.4942 yuan ($0.39) for the year-ago period.
By product segments, the power battery system unit accounted for 70.2% of CATL's 2021 revenue, posting a year-on-year leap of 132.06%. Its gross margin in 2021 was 22%, dropping 4.56% percentage points over a year earlier.
Besides, both the lithium battery materials and the energy storage system arms boasted a three-digit year-on-year growth in 2021 revenue, while the latter's gross margin slid 7.51 percentage points from the prior-year period.
For the year of 2021, CATL saw its sales volume of lithium batteries rise 184.82% year on year to 133.41GWh, 116.71GWh of which were contributed by the power battery system business.
In addition, CATL's annual R&D expense reached 7.691 billion yuan ($1.192 billion) in 2021, which reflected a year-on-year hike of 115.48% and accounting for 5.9% of the company's total revenue. The money was mainly used for such R&D projects as the sodium-ion battery, the AB battery system, the third-generation CTP technology, and the non-thermal-diffusion technology.