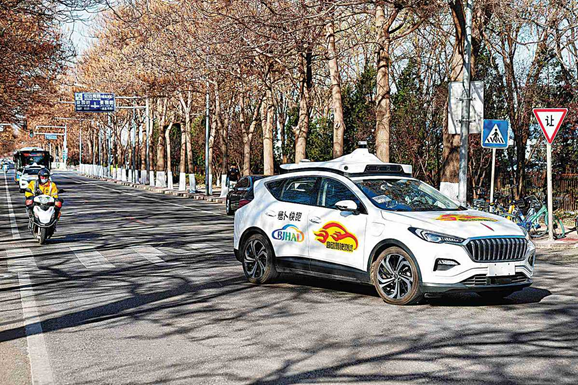 China should speed up the innovation of autonomous driving policies and promote the popularization of smart transport to alleviate road congestion and reduce carbon emissions, said Robin Li, co-founder and CEO of Chinese tech giant Baidu Inc.
Li, who is a member of the 13th National Committee of the Chinese People's Political Consultative Conference, said unmanned driving is becoming the commanding height that global self-driving technologies and industry are competing to reach, and competition in autonomous driving around the world now concentrates on policy innovation.
"The country that issues more innovative policies and takes the lead in realizing large-scale commercialization of autonomous driving will gain an upper hand in international competition," Li said.
He noted China leads the world in self-driving technologies, but needs to break policy bottlenecks that limit the development of technology and industry to stimulate innovative capacities in the self-driving sector.
In his proposal to this year's two sessions, Li said China should guide and support local governments to issue policies to allow self-driving vehicles without safety drivers to run on roads, and build pilot zones for the operation of fully autonomous driving vehicles carrying passengers.
He suggested speeding up the revision and implementation of the Road Traffic Safety Law to lay down a legal foundation to bolster the large-scale commercial application of self-driving vehicles.
China is planning to realize scale production of vehicles capable of conditional autonomous driving and commercialization of highly autonomous vehicles in certain circumstances by 2025, according to a blueprint issued by the National Development and Reform Commission, the Ministry of Industry and Information Technology and nine other ministries.
Li also called for the government to map out specific rules for market access of L4 self-driving vehicles, formulate management regulations, insurance as well as accident handling policies, and issue official licenses to qualified vehicles. L4 autonomy means the car can drive by itself in most conditions without a human driver.
The nation will encourage the development of digital economy, and build up digital industries such as integrated circuits and artificial intelligence, said the 2022 Government Work Report.
Baidu was chosen to lead the establishment of the country's AI national laboratory on deep learning in 2017. Self-driving technologies are important for the national research project.
Moreover, the country should build smart transport infrastructure in a rhythm that is moderately ahead of schedule, give full play to the remote control advantages of 5G, and improve traffic efficiency and safety through vehicle-road coordination system, in a bid to promote the intelligent transformation and upgrading of the auto industry, Li suggested.
The market size of China's self-driving taxi services is expected to surpass 1.3 trillion yuan ($205.8 billion) by 2030, accounting for 60 percent of the country's ride-hailing market by then, said a report by global consultancy IHS Markit.
Yang Diange, dean of the automobile engineering department at Tsinghua University, said L4 self-driving technology will first be deployed in taxis and trucks and in some designated areas, and large-scale application of such technology in private vehicles might be seen by 2030.