More than 400 JJE Two-speed and Direct-drive Systems Proudly Drive the EV and Hydrogen Fleet at Winter Olympics
2022/03/25 From: Jing-Jin Electric (JJE)
The XXIV Olympic Winter Games kicked off spectacularly with a stunning Opening Ceremony. As the first of the four Olympic Themes of Beijing Winter Olympics, "Green Olympics" is China's promise to the world. The battery electric and hydrogen fuel buses with the spirits of "Green Olympics" form the primary transportation fleet at the Winter Olympics. Jing-Jin Electric's EMAT two-speed electric drives and SD365 motors are powering more than 400 pure electric and hydrogen energy buses of Beijing Foton AUV, providing high-quality power and excellent reliability.
The Winter Olympics are held across three locations in Beijing and Hebei. Vehicles have to travel long distances in severe cold weather across maintain ranges, which requires the capability to climb steep slopes with ample torque and power; with worldwide visibility, the systems must be highly reliable; in addition, international guests expect low noise and high comfort for a relaxing and pleasant ride. Jing-Jin Electric and Foton AUV worked closely together to bring two classic and reliable products to the Winter Olympics, including the two-speed electric drive and the SD365 direct-drive motor.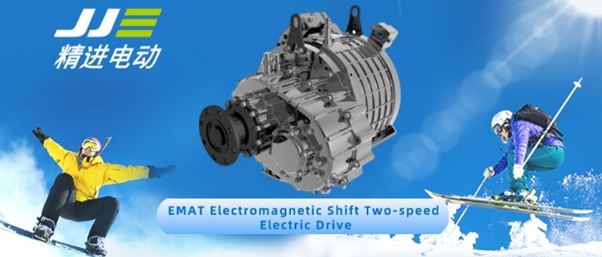 Jing-Jin Electric EMAT Electromagnetic Shift Two-speed Electric Drive
Jingjin Electric is the first company in the world to develop and commercialize the two-speed transmission for electric drives. JJE EMAT electromagnetic shift two-speed transmission is tailored for new energy commercial vehicles. It has been sold as a package as early as 2017. It is especially suitable for long-distance intercity and high grade-ability applications for buses and trucks. Eliminating the need for shifting forks, gear sleeves, or synchronizers, the EMAT electromagnetic two-speed shift does not require the complicated high-maintenance shifting mechanisms found in traditional AMTs. Compared with the traditional four-speed powertrain, the two-speed EMAT reduces 2/3 of the required number of shifts, improves comfort, reduces weight, simplifies the structure, and reduces failures.
This Winter Olympics event is a timely showcase of Jing-Jin Electric's Gen-1 EMAT two-speed electric drive. In 2022, Jing-Jin Electric will launch the Gen-2 EMAT product, which leverages JJE's upgraded electromagnetic shift clutch with even faster shifting speed and a newly-designed drive motor. Gen-2 will deliver a torque up to 6,500 Nm, surpassing Gen-1 by 73%; the system weight will be reduced by 18%; the power take-off option will be provided. It will successfully replace the traditional four-speed or six-speed transmission as a "One-System-Multi-Application" product, with the flexibility to equip pure electric, hybrid, or range-extended 10-12-meter buses, logistics vehicles, and sanitation vehicles below 18 tons. This powertrain will enable manufacturers to build more powerful, more reliable, more comfortable, lighter, more efficient, and more economical new energy commercial vehicles.