Concerted effort made to develop related technology for a greener future
Energy transition reached a new level as environmentally-friendly hydrogen was used to power the torch that lit the cauldron at the Beijing Winter Olympics opening ceremony.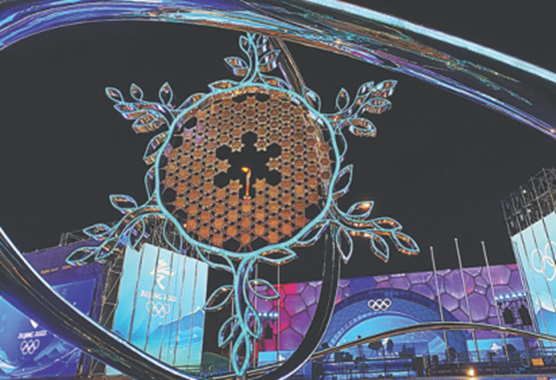 The cauldron of the Beijing 2022 Winter Olympics is lit with a zero-emissions, hydrogen-powered torch on Friday night at the National Stadium in the capital.
It was the first time in Olympic history that a zero-emissions torch had been used for such an occasion.
As cauldrons used for previous Olympics consumed thousands of cubic meters of natural gas per hour, the use of hydrogen avoids substantial carbon emissions. Suppliers used to transport gas day and night to ensure sufficient fuel for the cauldron.
The hydrogen used to light the Winter Olympics flame in Beijing was supplied by China Petroleum and Chemical Corp, or Sinopec, the world's largest refiner by volume.
The company is to build a hydrogen processing unit at its Yanshan petrochemicals complex in the Chinese capital to ensure a sufficient supply of the clean fuel.
The nation has accelerated expansion of its hydrogen energy industry in recent years as it races toward a carbon neutral goal, with investment in the sector continuing to grow, according to experts.
A recently released report by global energy giant Royal Dutch Shell said the nation is making a concerted push to develop hydrogen technology and infrastructure, especially in industries such as heavy-duty road transportation, shipping and aviation, as well as steel and chemicals.
Industries that currently rely on fossil fuels, with few clean energy alternatives, need to transition to new lower-carbon energy sources, and hydrogen will play an important role in meeting such needs, the report said.
According to S&P Global Platts Analytics, the introduction of hydrogen to such industries is especially necessary, as China produces more than half the world's steel and cement, and use of the gas can significantly reduce related emissions.
For example, using hydrogen to manufacture steel can reduce total global carbon emissions by about 8 percent. The steel industry has come under increasing scrutiny due to its reliance on carbon-intensive fossil fuels.
Royal Dutch Shell suggests that heavy industry in China, which will remain a significant source of energy demand and consumption, should prioritize the replacement of coal with low-carbon hydrogen as its primary energy source.
The company said the introduction of hydrogen to such industry will place China in a leading position to pioneer new solutions to create momentum for change and to benefit from it. It will also give the nation an opportunity to become an exporter of low-carbon industrial products and technology, as well as low-carbon industrial expertise, the report added.
China is the world's largest user of pure hydrogen, consuming some 14.6 million metric tons annually, or 20 percent of global demand. According to S&P Global Platts, more than 95 percent of the hydrogen consumed is used for oil refining and ammonia synthesis.
Recognizing the importance of the gas as a low-carbon energy source and global growth industry, China's 14th Five-Year Plan (2021-25) names hydrogen as one of six industries of the future. The government is also expected to launch a comprehensive national hydrogen development plan soon. The plan will include a full ecosystem for a hydrogen economy, ranging from a strong manufacturing base for electrolyzers to the various downstream uses of "green" hydrogen.
Ivy Yin, energy transition analyst at S&P Global Platts, said that compared with overseas suppliers, China's hydrogen electrolyzers are already much cheaper for proton exchange membrane and alkaline technologies. Proton exchange membrane, or PEM, fuel cells are considered the most versatile type of such cells currently in production. They produce the most power for a given weight or volume of fuel cell.
Yin said, "China is expected to become a key global hydrogen equipment supplier by bringing down manufacturing costs, similar to the way in which it has led global solar panel production."
While penetrating new markets with low-carbon energy still requires huge investment in infrastructure-including hydrogen transportation, storage and delivery-as well as renewable electricity generation, these challenges are not unique to China, she said.
Along with renewables and nuclear energy, there is a need for carbon neutral hydrogen to continue increasing its share of China's energy mix to displace coal and gas, Yin added.