Tesla Inc is to set up a design center in Beijing this year, which analysts say will allow the United States-based electric automaker to better tap into the world's largest but increasingly competitive vehicle market.
The facility is one of the capital city's major automotive projects scheduled for 2022, according to a Beijing municipal government document. Tesla did not comment on the project.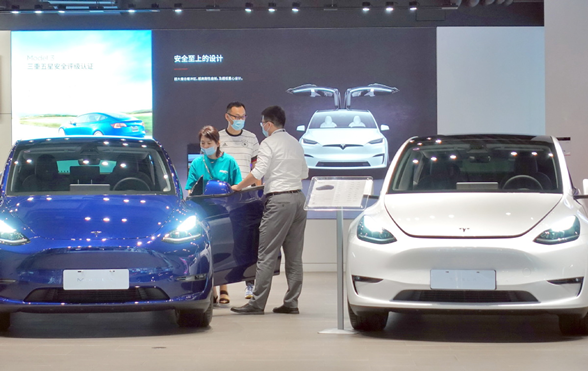 Cui Dongshu, secretary-general of the China Passenger Car Association, said it is getting important for international carmakers to move closer to Chinese customers as new energy vehicles are increasingly becoming serious options.
Last year, electric cars and plug-in hybrids accounted for 14.8 percent of total passenger vehicles sold in China. The figure is expected to reach 25 percent in 2022, said Cui.
The popularity of such vehicles has made the country one of Tesla's largest markets. Last year, it sold over 320,000 vehicles to Chinese carbuyers, accounting for more than one-third of its global deliveries.
"It (setting up a design center) is a reasonable move if you take the China market seriously," said Yale Zhang, managing director of Shanghai-based consulting firm Automotive Foresight.
"It is difficult to come up with designs that local customers like if designers are half a world away. Meanwhile, local Chinese carmakers are fast rising as competent rivals," he said.
Tesla's design center will mark another step in its localization efforts in China, following a research and development center completed in Shanghai late last year.
The facility, the company's first outside of the US, will develop over time similar in size to the one in its home country, it said. The Shanghai facility employs engineers for software, electronics, materials and charging.
"The goal of Tesla's team in China is to design, develop and produce new vehicle models and products with Chinese elements and sell them globally," Tesla said in a previous recruitment post.
Tesla made China its major export hub since July 2021. The carmaker shipped over 160,000 vehicles from its Shanghai plant to more than 10 countries.
Starting production in late 2019, the Shanghai plant is China's first and only passenger car manufacturing facility wholly owned by an overseas carmaker.
Some other international carmakers are stepping up localization in design as well as R&D as well.
Last month, the US' second-largest automaker Ford unveiled its China design center in Shanghai. Ford said the center houses a complete range of design capabilities and facilities and is capable of operating independently and designing vehicles for the local Chinese market.
Anning Chen, president and CEO of Ford China, said: "The industry is rapidly pivoting to electrification, connectivity and intelligent technologies. We are excited to see Ford's iconic heritage shine through designs that reflect Chinese innovation and craftsmanship."
The China Association of Automobile Manufacturers estimates that the Chinese vehicle market will grow 5 percent to 27.5 million units in 2022, with electric cars and plug-in hybrids the fastest-growing segment.