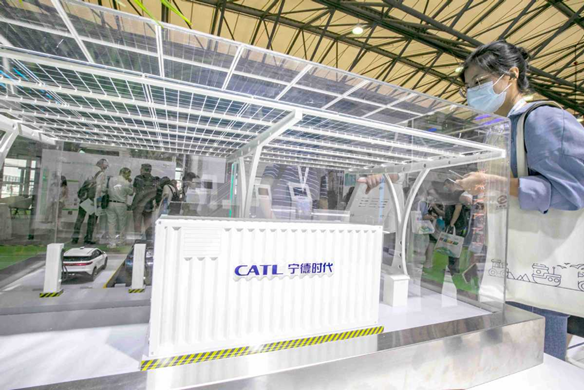 Battery giant 'exploring the feasibility' amid fiercer domestic competition
China's largest battery supplier Contemporary Amperex Technology Ltd is planning to build a factory in the United States and is exploring domestic supply alternatives, as competition among new energy vehicle makers and battery providers becomes increasingly fierce given booming NEV sales and technological improvements.
Minutes of an internal meeting provided to China Daily showed that Robin Zeng Yuqun, chairman of CATL, told over 50 investors, including Hillhouse Group, Sequoia Capital, Tencent Holdings and Temasek Holdings, that the company is "exploring the feasibility of localizing in the US".
Zeng said the company has had plenty of interaction with US clients, including both traditional automakers and emerging vehicle manufacturers, and has explored with them the feasibility of supplies and cooperation, depending on product quality and cost that are to be reflected by worker training, efficiency and labor unions.
With over 10 production bases by the end of last year, CATL plans to boost the expansion of overseas bases as well as system construction, including the training of overseas employees, he said.
US technology, materials or equipment are not "directly "used in the company's battery production process, Zeng said. As for some chips used in power management systems of its battery units that come from the US, the company is "exploring domestic alternatives".
The meeting came after CATL denied and filed a complaint to the police on Saturday regarding malicious rumors about its businesses, including allegations it was seeking professional help to deal with US sanctions and had recently lost a deal with Tesla.
The share price of CATL sank over 17 percent last week. Shares started to recover this week, rising 0.79 percent to close at 535 yuan ($84.5) on Thursday.
"The decline of its share price reflected the market's concern over the potential decline of the company's future performance growth. Although its business has grown rapidly over the past two years, it is facing more and more competitors like BYD," said Gui Haoming, chief market analyst at Shenwan Hongyuan Securities.
Gui said the NEV market is now different from the past, which can be seen in the rising price of raw materials such as lithium.
"The decline of NEV subsidies becomes relatively clear, and they are likely to be canceled next year. In this case, there are market doubts about the future development prospects of NEVs, especially whether they can maintain high-speed growth," he added.
Zhang Xin, chief auto analyst of Guotai Junan Securities, said that performance from institutions, especially public and private funds, is one of the most critical factors affecting CATL's stock price.
Wind Info statistics showed that shares from funds in CATL reached a peak of 284 million shares in June last year. But their shares dropped to 265 million and 259 million, respectively, in the third quarter and the end of last year.
"From an industry perspective, it is very common for the share price of listed companies to fluctuate, but investors should pay close attention to the impact of NEV technologies on the listed companies of power batteries," Zhang said.