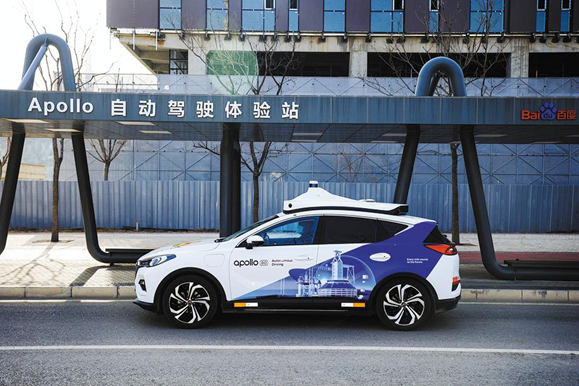 A driverless vehicle developed by Baidu Inc runs through Shougang Park in Shijingshan district, Beijing.
Smart transportation can help get rid of traffic jams that afflict big cities within a decade, said Baidu co-founder and CEO Robin Li on Monday.
By smart transportation, the Chinese technology company refers to a system that integrates such elements as autonomous vehicles, smart infrastructure, artificial intelligence, 5G and cloud computing.
He expects smart transportation to enable the authorities in China's big cities to lift limits on license plate quotas within five years.
In addition to congestion, Li said smart transportation can reduce road traffic accidents by 90 percent and reduce carbon emissions as well.
Smart transportation will bring about significant transformation in the next 10 to 40 years and thus will greatly influence the future, said Li.
Autonomous vehicles are already on the road around the globe including those from Waymo and Baidu.
Via its ride-hailing platform Apollo Go, Baidu offered 115,000 rides in the third quarter this year, becoming the largest autonomous mobility service provider in the world.
The company expects to expand its service into 65 cities by 2025 and 100 cities by 2030.
Baidu is speeding up efforts to produce its own autonomous cars, saying they will be the ultimate form of vehicle transportation in the future.
Its joint venture with carmaker Geely is scheduled to unveil its first robocar capable of Level 4 autonomous driving in the first half of 2022. Its mass production and delivery will start in 2023, said the company.
China's robotaxi market is expected to surpass 1.3 trillion yuan ($203 billion) by 2030, accounting for 60 percent of the country's ride-hailing market in the same year, said global consultancy IHS Markit in a recent report.