Great Wall Motor (GWM) Modeling Center won the "TOP 10 COPORATE DESIGN CENTERS" award for its excellent design strength at the release ceremony for the 2021 CHINA INDUSTRY DESIGN TOP 100 held on October 22 by China Industrial Design Association.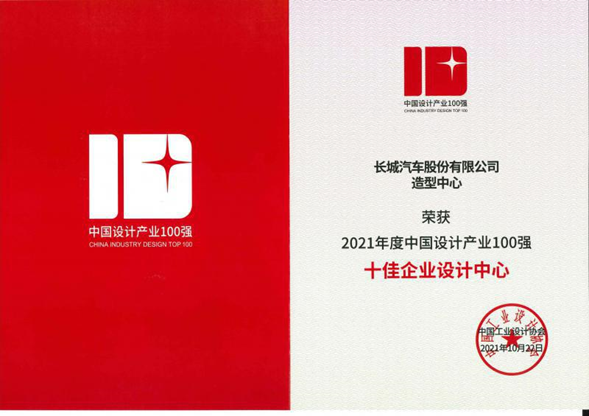 The "CHINA TOP 10 COPORATE DESIGN CENTERS" award mainly commends enterprises that have independent design centers, complete management system for design centers, clear organizational structure and sound process mechanism, play an important role in their own innovation and development, have a perfect high-level talent team and take a lead in innovation achievements in the industry.
The ranking list of the year, from the perspective of the most innovative, valuable and active characteristics of enterprises, focuses on the leading explorers and development forerunner in design innovation, as well as units and individuals who have made outstanding performance and excellent achievements in new models, new concepts, new brands, new business forms of industry, etc.
The "CHINA TOP 10 COPORATE DESIGN CENTERS" award is publicly selected across the whole industry, not limited to the automotive field. GWM is also one of the few automotive enterprises that won this honor. GWM Modeling Center has an international design team of over 800 people. In addition to Baoding's headquarters, GWM also has modeling design centers in Munich (Germany), Yokohama (Japan), and Shanghai (China). Integration of international design talents with scientific design processes enables the whole- process modeling design from strategy/conceptual design, scheme design, digital/clay model, color decoration, CAS design, VR rendering, etc.
Independent innovation is the self-reliance foundation of an enterprise while R&D and design is the soul of innovation. Facing the drastic competition in the global market, GWM is adhering to the concept of "changing for global consumers". Through continuous exploration and innovation, GWM has created a total of over 100 unique models of its brands, among which, Haval H6, Haval H2, WEY VV7 won the gold award of China Industrial Design Patent Award successively, and WEY P8 won the gold award of China Excellent Industrial Design Award.