FAW-Volkswagen, the joint venture between FAW Group Corporation and Volkswagen AG, signed a cooperation memorandum of understanding with Volkswagen China regarding imported automobiles and auto parts at the fourth China International Import Expo on November 5.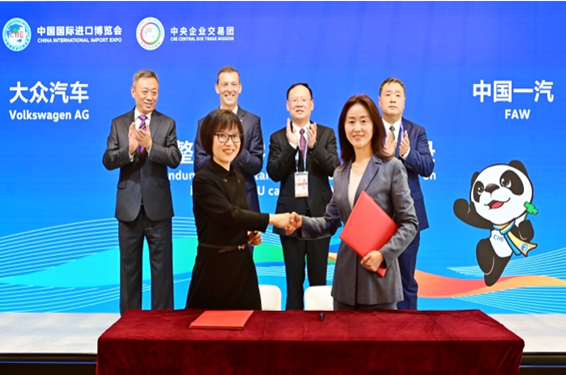 According to the agreement, FAW-Volkswagen will procure CKD parts, Audi imported vehicles for production and sales from Volkswagen China and Audi AG in 2022. The agreement helped strengthen the auto trade between China and Germany, signifying the connectivity and substantial mutual beneficial achievements of the Belt and Road Initiative between the two countries.
FAW-Volkswagen, as one of the first passenger vehicle joint venture in China, now owns over 30 models under Volkswagen, Audi and Jetta brands. After 30 years' development in China, FAW-Volkswagen has become the only joint venture that offers affordable brands, mass-produced brands, and luxury brands at the same time. Through constant exploring and attempts, FAW-Volkswagen has formed an industry-leading production and management procedure and cultivated many talents for Chinese automobile industry. Meanwhile, in the process of industrial transformation and upgrading, FAW-Volkswagen's new energy strategy has also entered an actual implementation period with the launch of high-quality green products such as the ID.4 CROZZ, ID.6 CROZZ, and the Audi e-tron series.
FAW-Volkswagen remains convinced that openness and cooperation are the only way leading to a healthy and ever-improving auto industry. Going forward, FAW-Volkswagen plans to keep advancing technology integration and innovative transformation through cooperation and exchanges, leading the synergetic development for upstream and downstream industrial chains, and making unremitting efforts toward the "Dream of a Powerful Nation in Automotive".
FAW is a leading global manufacturer of quality passenger cars, trucks, and buses. Established in 1953, the company is China's oldest and largest automotive group. Annual sales exceed three million units.