Recently, the Chinese Embassy in the Philippines donated JAC Sunray anti-epidemic vehicles of 10 units to Davao City Government, Philippines. Chinese Ambassador to the Philippines Huang Xilian and Deputy Mayor Sebastian of Davao City attended the online delivery ceremony.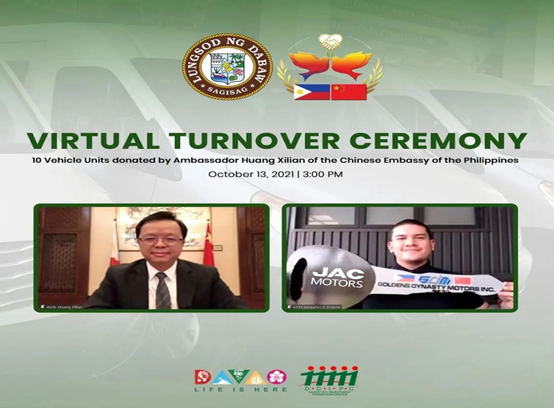 Ambassador Huang said that the current situation in the Philippines is still severe, and the spread of the mutant virus poses a serious threat to people's lives and health. In order to help Davao City improve the efficiency of patient transfer and save more patients' lives, the Chinese Embassy specifically donated 10 units JAC vehicles to the Davao City Government, including 4 ambulances and 6 vans. It is expected that these vehicles will help the Davao City Government's anti-epidemic work and bring more help and hope to patients and families in Davao.
JAC Sunray ambulance is equipped with professional medical rescue equipment, which is widely used in hospitals, emergency centers and Anti-epidemic Department. It can meet the needs of quick rescue, transportation of the injured and rescue needs during transportation. In recent years, JAC Sunray ambulances have successively obtained government procurement orders from Ukraine, Cambodia, Bolivia, Kazakhstan and other countries with their excellent quality, and have exported more than 500 vehicles, making outstanding contributions to the health of people around the world.
Since the outbreak of the epidemic, China and the Philippines have always helped each other, and built a closer partnership in the new era. With the joint efforts of China and the Philippines, China's "The Belt and Road Initiative" and the Philippines's"Build Build Build Plan" continue to achieve important results, which brings benefits to the people of the two countries. Let us look forward to the further advancement of China-Philippines friendship.