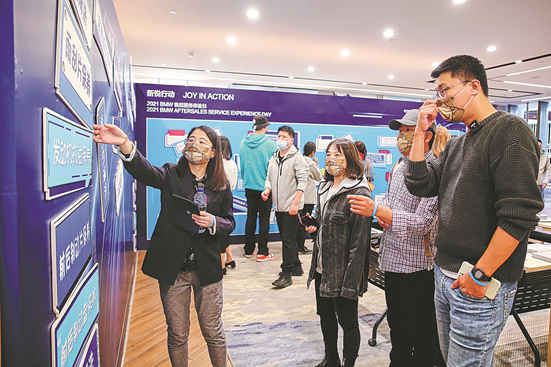 BMW proposes the idea of "service on-demand" and "necessary maintenance", offering both cost-worthy and timesaving services for customers.
Auto brands must make innovations to their services in order to win over young consumers amid consumption upgrading. German luxury carmaker BMW obviously knows this well. It has been an enduring topic as to whether dealerships or independent repair shops should be selected for vehicle maintenance and repair. BMW has demonstrated its originality in this regard at its fourth annual Aftersales Service Experience Day recently.
Instead of tedious introductions and hasty visits, BMW live-broadcast an innovative open debate by BMW owners in the media industry in the morning, with an immersive role-play experience in the afternoon, enabling the participants to act as "one-day dealer service staff", marveling at the excellent quality-price ratio of BMW's aftersales services after experiencing the whole service process.
Adhering to the "customer-centric" concept, BMW has made efforts to explore the demands of customers and offered services earlier, as it aims to become a valuable, convenient and caring service provider.
In the light of service innovation this year, Kang Bo, vice-president of customer support at BMW Brilliance, said in the interview: "We are trying to get involved in customers' potential needs before they arise and actively offer care services through technological innovation, which will make us more competitive."
The carmaker plans to launch a project named Proactive Customer Care or PaCC soon, which asks the service provider to explore customers' potential demands via backend data and provide related services one step ahead of customers.
For example, when warning messages, also known as Check Control Messages, show in a vehicle, the backend will receive the warning message in real time. After the aggregation and categorization by the algorithms, the PaCC backend will distribute the information to dealers to follow up and provide services to the customers.
By the end of this year, the carmaker will launch PaCC in iX, i4 and iX3. The system is expected to support more than 1 million BMWs by next April.
Kang said: "The project will be a milestone leap in providing services moving from a 'reactive' to 'proactive' model, and also a new starting point for the BMW customer experience."
The customer support department also works with the R&D department to develop more predictive algorithms, as efforts to find out potential vehicle maintenance needs earlier and provide more preventive services to customers, according to Kang.
BMW has around 5.6 million users and more than 600 authorized dealerships in China by now. The carmaker has made efforts to achieve a balance between increasing customer numbers and their service satisfaction. Digital tools help to enhance the services support a great deal, Kang said.
One of the tools, My BMW App, develops more than 60 tailor-made functions for Chinese consumers, including online appointments, roadside assistance, vehicle pick-up and delivery.
By now, the total number of users of My BMW App in China has reached 3 million.
The E-workshop in the app allows customers to check real-time maintenance and repair progress. A total of 77 percent of the offline customers have been connected to the program within one year of its launch.
BMW has also developed other digital platforms and apps to provide technical guidance for dealers and lessons to enhance their ability.
Another highlight of the BMW aftersales service in digital innovation is the remote software upgrade, which enables customers to upgrade their vehicles remotely in just 20 minutes.