China's automotive SoC developer, Nanjing SemiDrive Technology Ltd. (SemiDrive), has formed a strategic agreement with Neusoft, China's leading software company for new-generation intelligent cockpit development.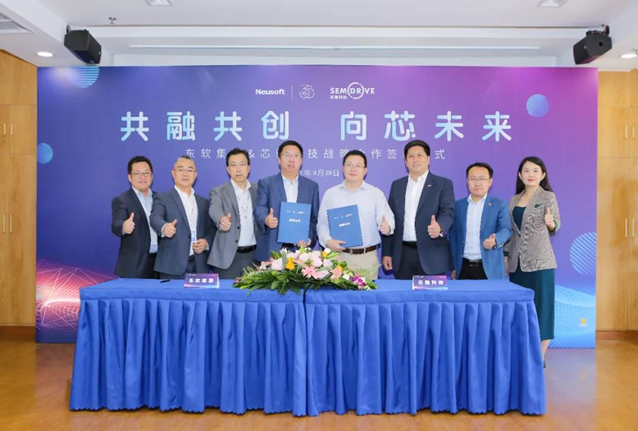 SemiDrive, Neusoft signing ceremony
Per the agreement, SemiDrive will bring its control-chip-based platform solution to the collaboration. At the same time, Neusoft will be providing customer system demand and function regulations and conducting product and application development based on SemiDrive's solutions.
Neusoft has nearly 30 years of experience in the intelligent connected vehicle field. With an aim to be driven by software and carried out with hardware, the company serves intelligent connectivity, in-vehicle infotainment, autonomous driving, car-sharing, and vehicle electrification areas, providing integrated onboard solutions to automakers.
Moreover, SemiDrive's X9 series are high-performance auto-grade chips aimed at advanced smart cabin solutions. The chips support cross-generation products with high compatibility and openness. The partnership sets an example of software-hardware synergetic innovative development within the industry.
According to the company, Neusoft is currently developing a new-generation intelligent cockpit, built on a service-oriented architecture, equipped with an integrated dashboard and infotainment system powered by SemiDrive's X9 chip. The innovation is believed to help companies shorten the development period and cut R&D costs.