China's smart electric vehicle company XPeng celebrated the production of its 100,000th vehicle today, marking another new milestone for the company after it hit the 10,000-unit monthly delivery milestone in September.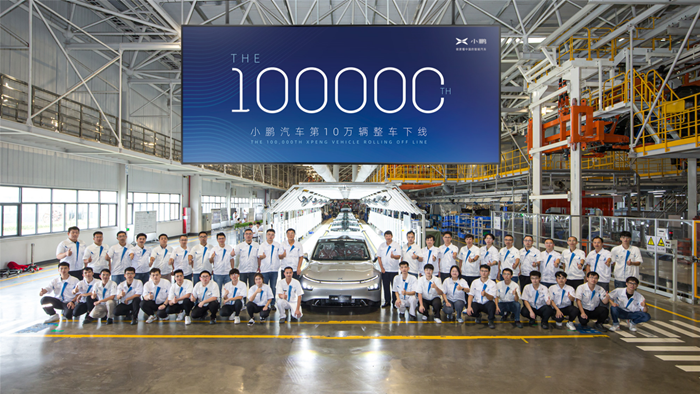 The vehicle was made in XPeng's wholly-owned Zhaoqing Smart EV Manufacturing Base. The Guangzhou-based EV startup on Aug. 18 broke ground on the second phase of its Zhaoqing plant. Upon completion, the phase two expansion project will increase the designed production capacity at the base from 100,000 units to 200,000 units per annum with the financial and land use support from Zhaoqing Municipal Government.
Its Guangzhou production base is under construction and in April this year, the automaker signed an investment contract with Wuhan, where XPeng will build a vehicle plant with an expected annual capacity of 100,000 vehicles.
Among all of the 100,000 vehicles produced, most are the P7s, whose monthly deliveries reached 7,512 vehicles in September. Thanks to the smart sports sedan's outstanding performance, XPeng's monthly deliveries managed to surpass 10,000 vehicles in September.
NIO has reached the 100,000-unit production milestone in April this year. And Li Auto will soon achieve the milestone since it had delivered 88,867 vehicles in total by the end of September.