Recently, JAC Group issued the bulletin for production and sales data of July 2021.
The bulletin shows: in July 2021, JAC Group sales reaches 39,000 vehicles, 6.57% growth YoY;Cumulative Sales from January to July period reaches 324,000 units, 31.7% increase YoY.Among them, JAC Group exported 7000 vehicles in July, YoY growth of 322.20%, and the cumulative export from January to July exceeded 40,000 units with an YoY increase of 144.42%.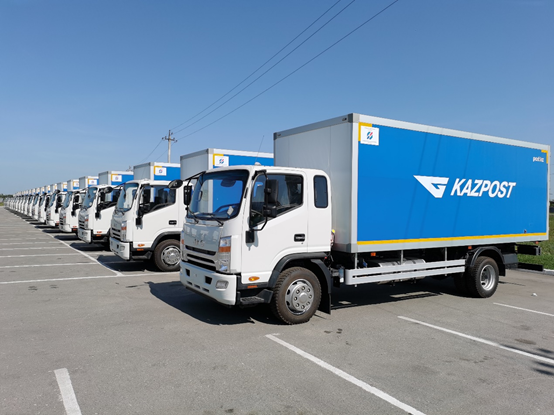 Continuous batch delivery, steady growth of the international market.
On July 13, the first batch of JAC T6 pickup trucks was officially delivered to Kazakhstan Telecom Group Almaty Branch. According to the agreement, some of the JAC T6 will be delivered to other major cities and regions in Kazakhstan. The delivery will provide a strong guarantee for the development of Kazakhstan's telecommunications industry and the revitalization of regional economy.
On July 22, 62 commercial vehicles, the second purchase, were delivered to Kazakhstan Post. In January this year, Kazakhstan Post purchased 14 light trucks as a trial. After a season of operation, the quality of JAC products were recognized, and the rebuy was in April. The 62 vehicles will be dispatched to 33 branches in 16 states according to their needs.
Batch delivery of JAC Commercial vehicles to Kazakhstan Post.
According to the purchase contract, additional 49 units of bulletproof T6 pickup will be delivered to 20 branches of Kazakhstan Post in August.
JAC T6 Adheres to the "international advanced & domestic leading" world-class technology power. For this batch of T6, JAC Group has tailor-made customized cargo box according to the customer needs for express industry, large space, multi-function, long and short distance use. With excellent product force, JAC pickup has repeatedly won government purchase in Nigeria and Bangladesh and other countries in recent years. July 2021 witnesses 946 units of export, an increase of nearly 500% YoY.
The batch delivery to Kazakhstan is only an example of the batch deliveries of JAC Group in 2021. In recent years, JAC has obtained many purchase orders from overseas government and major industry customers. Up to now, JAC has established a marketing network covering more than 130 countries and regions in South America, Africa, Middle East, Southeast Asia, Southwest Asia and Eastern Europe, with a total export of more than 700,000 vehicles. Winning sales champion in many overseas markets, JAC attracts numerous fans all round the world.
Focus on user-oriented thinking, build global competitive advantage.
JAC products are favored by by numerous clients at home and abroad at home and abroad. Besides the support of product technology, the "customer-oriented operation" concept has always been insisted.
In order to enable consumers to have better experience of excellent products and after-sales service, JAC continues to carry out customer care activities on different occasions with different forms and scale, highly recognized by overseas consumers.
In the middle of July, Customer Service Dept. of JAC International worked with the distributor in Guatemala, organized and implemented the"Service Clinic" activities, visiting areas with high population of JAC vehicles and providing free check of vehicles on site and adding lubricants.
On-site maintenance of vehicles by JAC service personnel.
In order to strengthen the effect of service, JAC also has worked with the distributor in the "Service Clinic"to provide customized maintenance package to promote the products, providing customers with a variety of options and reducing the cost of vehicles during the pandemic.
After the activities, the distributor has made analysis of the new vehicle data. From the perspective of customer sources, recommendation and rebuy accounted for 29% and 40% of the sales respectively.
How to achieve user-centered operation in the international market competition and obtain the lasting competitiveness? Mr. Zhang Peng, GM of JAC International, said, "the first step is to change, not only the concept, but also the process, tools and methods. In addition, we focus on people, vehicle and life, and take users as our service objects. We should not only provide good driving experience, but also create value for customers."
JAC Group will adhere to the principles of steady operation, strategic focus and multiparty cooperation, give full play to the advantages of a comprehensive automobile enterprise, integrate high-quality resources at home and abroad, continue to cultivate core capabilities, establish competitive advantages in international business, strive to create a new situation in international business, and continue to create a better car life for global consumers.