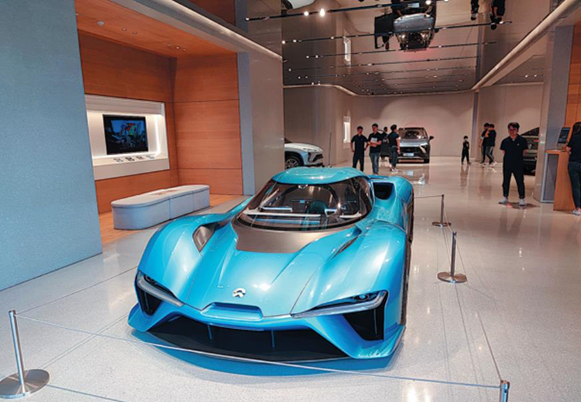 China leads way with clear strategy, rising demand.
For the past month or so, Zhang Yanjie has spent most of his time after work visiting car websites, going to dealerships and taking test drives.
The 36-year-old Beijing lawyer has narrowed his shortlist for a new electric vehicle to three candidates-a BYD Han, a Xpeng P7 and a Tesla Model 3.
Zhang said he will discuss the choice with his wife, who works as an office clerk, before making a final decision. Whichever model he picks, the biggest losers are dealers selling cars powered by gasoline.
"Charging an electric car makes a lot of sense financially compared with filling a vehicle with gasoline," he said.
Other factors helping tip the balance in favor of electric cars include quicker acceleration and visible technology.
"Big screens and other items are cool, as many of these features are controlled by voice command. You simply say 'turn on the radio' or 'turn on the air conditioner' and it is done," he said.
Zhang and his wife are new fans of China's burgeoning new energy vehicle, or NEV sector, which comprises electric cars, plug-in hybrids and fuel cell vehicles.
By the end of June, there were 6.03 million such vehicles on the nation's roads, according to the China Association of Automobile Manufacturers.
More than 1.2 million NEVs were sold in the first half of this year, of which around 80 percent were electric cars-a rise of over 200 percent from the same period last year. The proportion of NEVs in total new vehicle sales rose to 9.4 percent by the end of June, up from 5.4 percent for the whole of last year.
The popularity of NEVs is even more apparent when it comes to family cars, including sedans, sport utility vehicles and multi-purpose vehicles.
The China Passenger Car Association said sales of electric and plug-in hybrid family cars in the nation reached 1.1 million in the first six months of this year, accounting for 46.5 percent of the global total.
Europe, which is stepping up its electrification campaign, came second with 38.2 percent, followed by the United States with 11.5 percent.
Analysts at Everbright Securities estimate that NEV sales in China could reach 2.7 million this year, thanks to growing demand, manufacturers rolling out new vehicles, and the nation's firm commitment to the sector.
According to global consultancy Accenture, in China, some 68 percent of people owning cars fueled by gasoline said they would buy an NEV as their next vehicle.
Support for accelerating development of the sector was announced after a meeting of the Political Bureau of the Communist Party of China Central Committee on July 30.
Fu Yuwu, honorary chairman of the China Society of Automotive Engineers, said he was "excited and exhilarated to learn of this momentous decision".
"It will prove to be another big boost to the already fast-developing NEV industry," Fu said in an interview with China Automotive News.
He added that the focus will not only be on increasing market size, but also on making breakthroughs in core technologies to help China consolidate its leading position in the market.