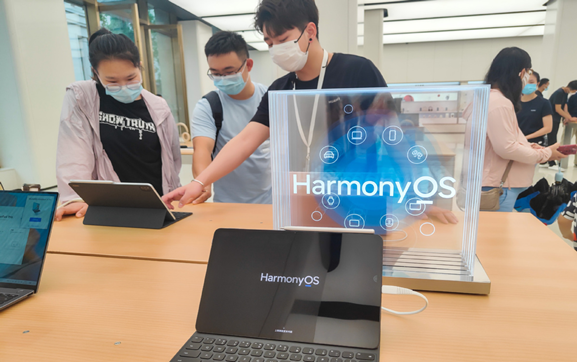 Huawei aims to provide a more seamless interface linking a wide range of internet of things products.
For Ge Shuai, a 9-year-old student learning how to develop a software application, HarmonyOS is a brand-new world.
The operating system was developed by Chinese tech heavyweight Huawei Technologies Co.
"It offers me a clue into what the world of the internet of things looks like," Ge said.
Ge has been learning to use tools from HarmonyOS to develop applications for months under the watchful eye of his father, himself a professional software developer. The younger Ge started learning about HarmonyOS more than a year ago.
"HarmonyOS is not a substitute for Google's Android or Apple's iOS.It is to power the IoT. Its developer tools are very convenient to use," Ge Shuai said, adding that he is now developing an online shopping application.
He is one of a growing number of Chinese software developers who are now working on applications centered around HarmonyOS. At the first HarmonyOS Developer Innovation Contest held earlier this year, more than 10,000 software developers from over 3,000 teams presented their work.
The developers are key to Huawei achieving its ambition of building a robust ecosystem centering on a powerful operating system, a dream that many Chinese tech heavyweights entertain but none has yet turned into reality.
Yu Chengdong, CEO of Huawei's consumer business group, said HarmonyOS, which was first unveiled in August 2019, is a next-generation OS designed for the IoT era. It is designed to deliver a smooth experience across different devices.
"You can develop your apps once, then flexibly deploy them across a range of different devices," Yu said.
The ambition is great, but the key to success lies in whether software developers will embrace the new OS and make applications around it. Facing arguably its biggest challenge in its more than 34-year history, Huawei is determined to pour in hefty resources to realize the dream.
In June, the Chinese tech giant launched the latest version of its OS-HarmonyOS 2-for smartphones, tablets and smartwatches. That marked a crucial step for Huawei, which had prepared for its transition from Google's Android operating system to HarmonyOS for a long time after Washington restricted access to Google software and services in 2019.
At the start of July, Huawei said there were more than 30 million smartphone users of HarmonyOS.Stated differently, every second, eight users upgrade the OS of their older models of Huawei smartphones on average, replacing Android with HarmonyOS.
One month later, Huawei said as of Aug 6, smartphone users of HarmonyOS exceeded 50 million amid mounting enthusiasm from partners and consumers to embrace the system.
Huawei said earlier that it aims to have 300 million devices powered by HarmonyOS by the end of this year, including more than 200 million for its own devices and the rest coming from third-party company equipment.
Zhang Wentao, a Beijing-based bank employee who recently upgraded the software of his Mate 30 smartphone to HarmonyOS, said the new operating system enables very smooth experience across his phone and Huawei tablet.
Huawei said that currently more than 20 of its smartphone models support HarmonyOS. In terms of ecosystem, more than 300 partners, including home appliance maker Midea, artificial intelligence company iFlytek and cookware company Supor, have embraced HarmonyOS.
Xiang Jiangxu, vice-president and chief technology officer of Midea IoT, said, "HarmonyOS will cover almost all categories of our products, some 200 varieties, within this year."
The OS will help build an efficient link between Midea's products and the smart IoT system, Xiang said, adding that more home appliances equipped with HarmonyOS will soon be available in the market.
Huawei expects that in 2021, more than 40 mainstream brands will become new partners of HarmonyOS.
In addition to hardware, software companies are also embracing HarmonyOS. For instance, with the OS, e-commerce giant JD is trying to have its app run on televisions, even refrigerators, and other screen-equipped devices. If everything goes well, hundreds of millions of devices, including cars equipped with smart screens, can run the JD app or any other app via HarmonyOS.
Such an increasingly larger alliance offers stronger motivation for software developers to come up with applications that can deliver cross-device experiences.
Yin Dong, a Beijing-based software developer who has been using tools from HarmonyOS to develop mobile apps for months, said he is very optimistic about the operating system's future.
"It is very convenient to develop applications for cross-device experiences based on HarmonyOS. Unlike Android, which is designed only for smartphones, HarmonyOS is for IoT devices including watches, TVs, cars and even ovens, enabling them to easily connect with each other and deliver new functions," Yin said.
Charlie Dai, principal analyst at market research company Forrester, said: "US government restrictions leave Huawei with no other choice but to accelerate research and development to build an open tech ecosystem of its own, from hardware to software for smartphones. It is a tough journey but Huawei must go through it to survive and thrive."
Wang Chenglu, president of the software department at Huawei's consumer business group, said the short-term market share goal for HarmonyOS's ecosystem is 16 percent.