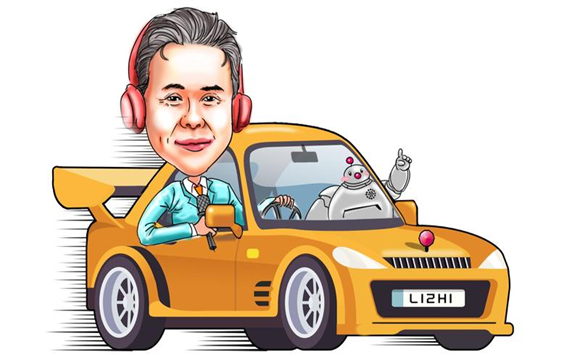 Guangzhou-based audio entertainment company is revolutionizing the auto industry with a range of vehicle-customized apps
The advent of intelligent, or smart, vehicles has not only revolutionized the traditional automobile industry, but also the software world.
Seen as an operating platform like the iOS (the iPhone operating system) or Android in mobile phones, the emerging in-car system is expected to give rise to a range of new vehicle-customized apps.
Lizhi Inc — a Guangzhou-based interactive audio entertainment company with a global presence — aims to take the lead in the arena.
The automobile system is a new operating platform of the mobile internet — like those of smart phones. Mobile phones originally only made phone calls, but are now omnipotent, said Lai Jinnan, who founded the tech startup.
He believes a lot of services could be inserted into the new operating platform, and voice content is among the first wave of applications.
Lai, who was a broadcast host about two decades ago, launched the Lizhi app in 2013 when mobile phones stepped into the spotlight of the internet stage.
"I found many of my friends, who used to be radio hosts, started making podcast products," Lai recalled. But instead of becoming a podcast host himself, he decided to focus on developing related technology.
Podcast-hosting services at the time were mostly based in the United States and were expensive, while Chinese podcast hosts did not have many convenient and cost-effective choices, he said.
Lizhi was one of the first tech companies to provide such services on the Chinese mainland and gradually provided a basket of technological tools in the industry chain, including content storage, development and distribution, Lai said.
The company intends to simplify the audio creation process while improving sound quality and effects with innovative apparatus, such as real-time communication technology and various voice filters.
The Lizhi app has accumulated 273 million uploaded audio programs as of March, while Lizhi has an average of about 59.7 million monthly active users in the first quarter of 2021. Lizhi went public on the Nasdaq Stock Market in January 2020.
However, compared with China's largest online audio platform Himalaya, which has about 250 million monthly active users, Lizhi has a model as an audio-based social network with a global presence that still faces challenges.
"The growth of the smart car industry and the 'internet of vehicles' offer new potential for online audio development, particularly for the podcast industry," Lai said.
For instance, the transition of the mobile handset industry from functional to intelligent phones about a decade ago has spawned new players and champions, changing its entire structure and ecosystem.
With the growing popularity of smart cars, competition in the development of in-car operating systems has attracted global technology software heavyweights. Android and Apple launched their own products, while Chinese technology giants such as Huawei and Tencent followed suit.
Lai believes the emerging intelligent-vehicle sector will create huge opportunities, with novel and revolutionary applications of audio products, including audio content, and social services like ordering takeout and booking tickets.
For audio content, the on-board audio penetration rate of smart cars reached 30 percent on the mainland last year, sparking profound market demand, according to Beijing-based market research consultancy Analysys.
Compared with radio programs, Lai said, users of audio products have more ways to participate on internet platforms. "In the past, we mostly communicated with the audience through phone calls. I remember having to answer more than 100 calls one night."
But an internet-based audio product allows users to send voice messages as well. The challenge is to design feasible and convenient ways for interaction in the new in-car application scenario.
"The mainstream solution is voice commands, but we found it could not solve the problem entirely," Lai said. The startup is also exploring gestures and even eye movements to send commands.
"We need to provide an operation as simple as possible, or otherwise users would lose interest after several failed attempts. But it requires more complicated design and technology, much different from what we have done for mobile phones."
Lai's company has tried to skip phones and connect its app with car systems directly, so the company must conduct most of the function tests in real cars.
In return, the audio technology upgrading can also help car producers improve their vehicle designs in terms of noise reduction and innovative command measures with a comprehensive vehicle-mounted system, he added.
Lizhi launched its Lizhi podcast this year — one of the first tech companies in the country to offer livestreaming podcasts for the in-car scenario — on Tencent's WeScenario in-car platform.
The startup has also teamed up with leading Chinese smart electric vehicle producers, such as Li Auto, XPeng Motors and WM Motor, as well as intelligent cockpit solution providers like Xinghe Zhilian Automotive Technology Co.