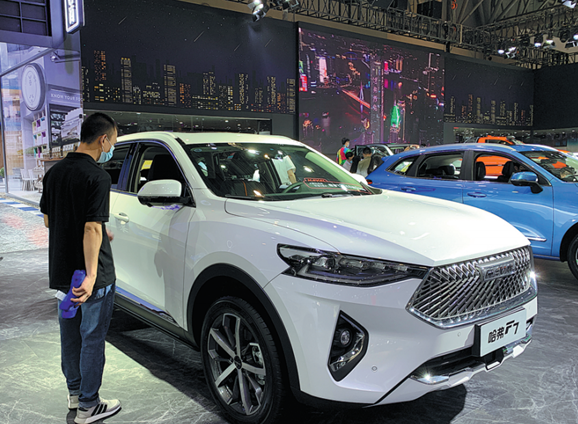 Great Wall Motors displays its Haval-branded SUV at the 2021 Chongqing International Auto Exhibition.
Domestic manufacturers have the chance to snatch lead from foreign rivals, say executives, Chinese auto executives hope to take the market lead over their foreign rivals as gasoline vehicles are replaced by electric and intelligent ones. There were 5.8 million new energy vehicles on Chinese streets by the end of May, which is roughly half of the global total, according to statistics from the China Association of Automobile Manufacturers.
In May, NEVs accounted for around 10 percent of new car sales in the country, and 15 percent of new cars sold in that month had advanced driving-assist functions. "We are leading in terms of new energy vehicles and smart vehicles," said Great Wall Motors Chairman Wei Jianjun when the carmaker revealed its 2025 ambition last week.
The company, which is celebrating its 31st anniversary this year, estimates 80 percent of its sales in 2025 will be new energy vehicles, and 40 percent of the cars sold in the year will be installed with highly autonomous driving functions. "But it would be essential for us to work harder to consolidate our advantage if we would like to remain in the leading position. I believe the time window will disappear in three to five years," he said.
The private carmaker is earmarking 100 billion yuan ($15.43 billion) for its goals and would triple its number of software engineers in two years to around 10,000. Its total number of engineers will double from around 15,000 this year to 30,000 in 2023. Zu Sijie, chief engineer of China's largest carmaker SAIC Motor, said Chinese carmakers are on a par with international ones in terms of electric cars and they stand a chance to be the leader when it comes to smart vehicles.
"Smart vehicles will be based on local environments and local data, and obviously Chinese companies have a better understanding of them," Zu said. SAIC has revealed its goal to become a technology company focused on smart and electric vehicles, for which it has earmarked a budget of 300 billion yuan by 2025.
Zu said international companies took the lead in introducing the latest technology via local auto joint ventures. But Chinese companies will have their turn as vehicles are getting smart, connected and autonomous. Li Jun, CEO of SAIC subsidiary Z-One, said the company has finished an electronic vehicle platform capable of Level 3 functions. A platform capable of Level 4 functions will be unveiled in 2023.
Z-One has also launched a digital system that functions like Google's Android for smartphone makers and users. The system, the first of its kind in the auto industry, allows software developers to code and release car-based applications in an app store. Car owners would download and install them in their vehicles, thus tailoring their vehicles to their own tastes.
"We would like to transform the limited car cabins into limitless possibilities," Li said. Nio, a Chinese electric car startup listed in New York, sold more than 42,000 vehicles in the first half of the year. William Li, who established Nio in 2015, said China is the perfect place to make smart electric cars. "We have all the things needed, be it software, mobile internet or digitalization, and more importantly, the Chinese government has a clear ambition in terms of electrification and decarbonization," he said.
The vast market is expected to power the electric carmakers' fast development. Fu Bingfeng, executive vice-president and secretary-general of the China Association of Automobile Manufacturers, estimates that annual sales of new energy vehicles will grow at more than 40 percent year-on-year over the next five years.
"In five to eight years, a vast number of gasoline cars that cannot meet China's emissions standards will be phased out and around 200 million new cars will be bought to replace them. This creates huge opportunities for the new energy vehicle sector," said Fu.
Guo Shouxin, an official at the Ministry of Industry and Information Technology, said China's auto industry is expected to see faster development during the 14th Five-Year Plan (2021-25).
"The trend of the Chinese auto industry's positive development in the long run will not change, and our determination to develop smart electric cars will not change either," Guo said. Brian Luo, public relations director of Chinese NEV giant BYD, said the industry has shifted from being merely policy-driven to increasingly market-driven, and consumers' acceptance of NEVs has risen.
In the first five months, the combined sales of new energy vehicles totaled 950,000 in the country, rising 220 percent from the same period last year, according to statistics from the CAAM. The association is considering scaling up its estimated NEVs sales to 2 million this year, up from its previous estimate of 1.8 million.