Baojun has launched the new Valli station wagon featuring a 1.5L turbocharged engine.
The Valli has been optimized to meet the needs of family and business users, with a length of 4,685 millimeters, width of 1,806 millimeters, height of 1,485 millimeters and wheelbase of 2,700 millimeters.
The spaciousness extends to the interior. When the second-row seats are folded flat, the Valli offers 1,620 liters of cargo volume. It also comes with a roof rack, providing additional carrying capacity for family outings and travel. Reclining rear seats with extra headroom along with airplane-like headrests support the comfortable riding experience.
Like other Baojun models, the Valli incorporates the brand's trendy high-energy interstellar geometry design language, which combines aesthetic design and practical functionality. Its futuristic front grille and distinct body line, together with the brand's stylish diamond logo, give it a young visual impression that will appeal to the new generation of car buyers.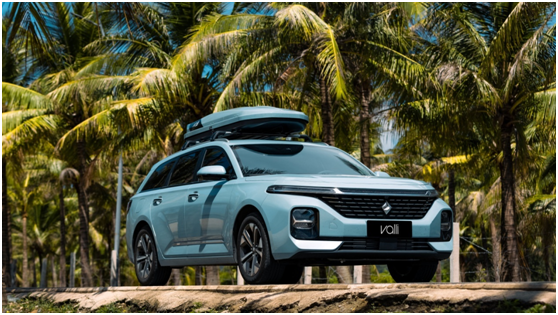 The Valli inherits Baojun's technological, intelligent and connected DNA, integrating mobile connectivity with in-vehicle features. Its advanced intelligent network system includes cell phone remote control. Users can also enjoy precise and fast voice control, customized infotainment and even car-home connectivity. In addition, the Valli comes with five safety systems, such as anti-collision warning and automatic emergency braking.
Its spirited engine is matched with a smooth-shifting eight-speed continuously variable transmission (CVT), generating 250 Nm of maximum torque and maximum power of 108 kW. Its optimized chassis tuning further boosts fuel economy.
Four Valli variants are available for between RMB 79,800 and RMB 105,800. Those who purchase the model via the Baojun app/mini program, Linglingbang, JD or TMALL can pay RMB 9.9 to place their pre-order and enjoy surprise gifts worth RMB 16,280.