On April 19th, the 19th Shanghai international autoshow was opened at National Exhibition Center (Shanghai) with the theme of "Embracing Change". JAC presented the new energy vehicles of e-S4, e-S1, e-J7 and e-S2. It's worth mentioning that the e-S4 is JAC's first mass-produced model with the level of L2+ level autopilot capability, taking the first step in surpassing the top "players" in autopilot field.
In the era of electric vehicles, the level of intelligence has become the focus of competition among automotive brands. JAC e-S4 is the first in its segment to achieve L2+ level autopilot. As a compact pure electric SUV, JAC e-S4 is equipped with 24 intelligent perception hardwares throughout the vehicle: 6 HD cameras + 5 millimeter wave radars + 1 high precision map positioning module + 12 ultrasonic radars, which can realize functions of Adaptive Cruise Control, auto speed limit, auto follow, auto turn, assisted auto lane change and auto parking under highway, urban expressway scenarios and specific functional parking lots.
The high precision maps on JAC e-S4 provides full assistance for autopilot systems in terms of perception, positioning, decision-making, path planning, and control. High precision maps can provide the information and location of more than 40 kinds of accurate road and traffic signs, achieving beyond-visual-range awareness, greatly improving the reliability of the perceptive system; at the same time, with the help from the high precision positioning modules, e-S4 could achieve lane-level positioning and navigation, and it can accurately identify the geofencing provided by autopilot system, to ensure the safety during autopilot period.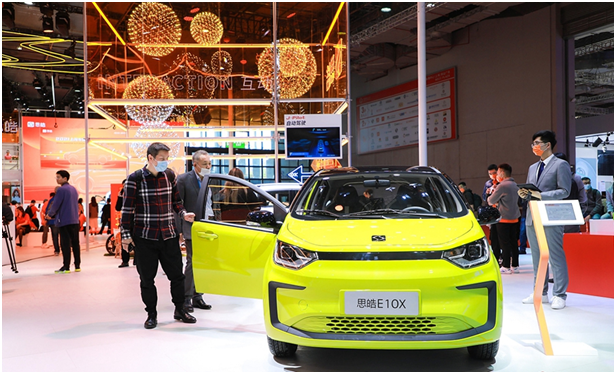 With the launch of e-S1 and e-J7 premium edition, JAC has product layouts in the three major segments of pure electric small personal-use car, medium and large family-use cars, and public transport cars, built its own product matrix.
After the official launch of the smart pure electric car e-S1 on march 28 in China, it has become the first choice of young people, with the 8 unique values it brings. "makeup table" and "four-piece set" are deeply favored by female consumers. It has won orders of 1,000 units within 4 hours when it was launched in China. And more than 4,000 units are being delivered currently.
With outstanding exterior design, overstepping space, strong performance and ultimate safety, e-J7 is a heavyweight in both public travel market and family car market. What's more, e-J7 is equipped with the latest technology such as honeycomb power batteries, heat pump air-conditioning and long service life, making it the most worthy-of-buying pure electric car in this segment.
Electrify, intelligentize, networking have become the future development trend of the global automotive industry, the new energy automobile industry will enter the "golden decade." In the comming 5 years, JAC will launch more than 10 new energy passenger cars, build a brand-new small car platform, start the construction of a new platform of medium and large vehicle, strengthen the application of intelligent network technology, taking into account the technology of swappable power battery at the same time.
In future time, JAC will present better products, more advanced technology and more intimate service to bring the ultimate quality and intelligent experience for JAC users!