As auto industry evolves, so too are the companies becoming more involved
As Chinese technology companies rush to enter the smart electric vehicle sector, the country's automobile industry is expected to experience escalated transformation in not only manufacturing but also marketing.
Since the beginning of 2021, a raft of Chinese big names such as Baidu, Xiaomi, Huawei and Oppo have announced their foray into the automobile industry at different levels.
In January this year, internet company Baidu announced the establishment of an intelligent automobile company, to enter the industry as a complete vehicle manufacturer.
In late March, Chinese smartphone maker Xiaomi said it will invest $10 billion in 10 years to develop intelligent electric vehicles.
On March 30, Xiaomi submitted an official announcement to Hong Kong Exchanges and Clearing Limited that its board of directors had approved a project to invest in the smart electric vehicle industry.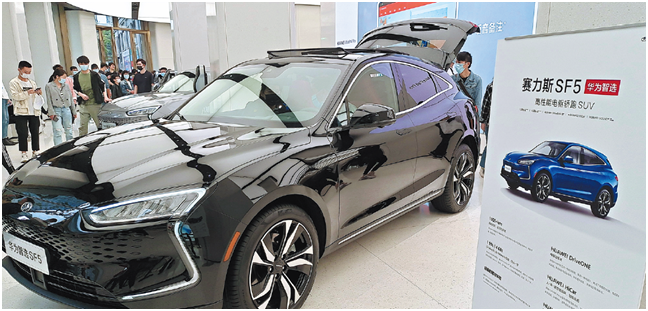 Another smartphone maker that is reportedly preparing to produce vehicles is Oppo.
It is reported that Chen Ming-yong, founder and CEO of Oppo, is exploring resources and professionals in the electric vehicle industrial chain, and has met with Zhu Wei, president of the China passenger car business unit at CATL, China's largest power battery maker.
Oppo has more than 3,000 patents in the field of internet connected vehicles, including vehicle positioning systems, distance measuring device and electronic equipment.
On the opening day of the 2021 Shanghai auto show, held from April 19-28, Chinese technology company Huawei, together with Chinese electric vehicle startup Seres, launched a new model-the Seres Huawei Smart Selection SF5, which can be purchased from Huawei's online shopping mall.
The vehicle is equipped with Huawei's DriveONE three-in-one electric drive system, the Huawei HiCar smart connection system, and Huawei Sound high-quality music experience.
According to the tech company, the new model can run up to 1,000 kilometers on a single charge, has a maximum output of 405 kilowatts and a top torque of 820 Newton meters, and can accelerate from 0-100 km per hour in 4.68 seconds.
Cooperating with car companies is the first step for Huawei, with the second step being the launch of its own car brand and the third step building cars on its own, said Zhang Shulin, former vice-chairman of China Association of Automobile Manufactures.
For enterprises, the high commercial value is an important reason why they are optimistic about the smart electric vehicle sector.
"The intelligent electric vehicle has broad development space in the next decade, and is an indispensable part of intelligent ecology. It is also an essential way for Xiaomi to continue to meet people's needs for a better life with the help of science and technology," said Lei Jun, Xiaomi's founder and CEO.
Statistics show that by 2020, China's new energy vehicle production and sales had ranked first in the world for six consecutive years, with a total sales volume exceeding 5.5 million units.
The CAAM predicts that sales of NEVs in China will surpass 1.8 million units this year.
In a government blueprint, it is estimated that new energy vehicles will account for at least 20 percent of China's total new car sales in 2025.
However, there are a series of challenges to be overcome in developing smart electric vehicles, including the requirement for huge investment, long production time and higher technical requirements.
For instance, the research and development expenditure of Chinese electric vehicle startup Nio in 2020 was 2.49 billion yuan ($385.46 million) and the sales and management expenses were 3.93 billion yuan.
Founded in 2014, Nio delivered its first vehicle-the ES8-in 2018. It took Xpeng, another Chinese NEV startup, three years to achieve mass production and delivery of its first model G3.
In addition, the sector faces challenges such as a weak innovation ability of core technologies, insufficient infrastructure construction and increasingly intensified market competition.
But tech companies see themselves as having "built-in advantages" in developing smart electric vehicles.
Baidu has a complete chain of technology and software ecology, and it can make better use of its technological and software advantages, according to the company.
Xiaomi has rich experience in hardware and software integration, a sizeable number of cutting-edge technologies, active and mature intelligent ecology, as well as sufficient cash reserves, which are expected to shore up the company in developing vehicles, Lei said.
As more tech companies enter the electric vehicle sector, the market competition will be intensified, promoting the transformation of traditional automakers, insiders said.
"The shift from a traditional carmaker to (a company that produces) software-dominated vehicles is a self-evident challenge," said Zu Sijie, vice-president and chief engineer of SAIC Motor.
"The basic skills and scale of production of car making are the advantages of traditional car companies, while paying more attention to user experience is the superiority of internet and tech companies."
The automobile is expected to transform from a "hardware-oriented" industrial product into a self-learning, self-evolving and self-growing intelligent terminal, and become a walking "intelligent new species", said Chen Hong, chairman of SAIC Motor.