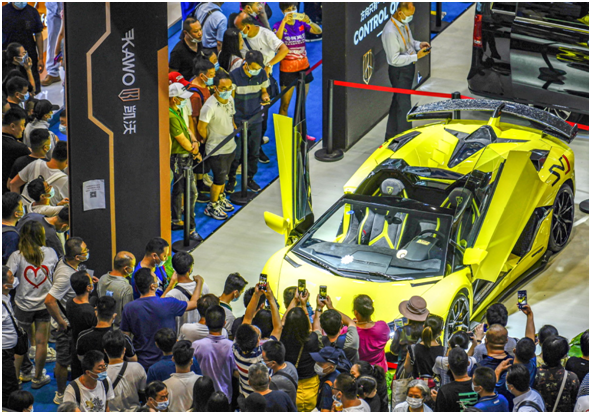 China's strong economic resilience is expected to lend support for the automobile industry, experts said.
According to the data released by the China Association of Automobile Manufacturers on Wednesday, carmakers in China churned out more than 2.23 million cars in April, up 6.3 percent on a yearly basis. Meanwhile, the number of cars sold increased 8.6 percent on a yearly basis to over 2.25 million in April.
Nearly 151,000 made-in-China vehicles were exported in April, a record high and 1.1 times the data collected in the same period a year ago. The figure was a 13.7 percent jump over the exports in March.
More than 1.7 million passenger cars were sold in April, up 10.8 percent year-on-year. The number of Chinese brand passenger cars sold last month jumped 34.8 percent year-on-year to 719,000, accounting for 42.2 percent of all the passenger vehicles sold in April. The market share of Chinese carmakers increased 7.5 percentage points from a year earlier, the CAAM said.
Up to 206,000 new energy vehicles were sold in the past month, which was 1.8 times more than the number in April a year ago.
But it should be noted that the number of NEVs sold in April contracted 8.7 percent on a monthly basis. The total number of all the cars manufactured and sold in China during April was respectively down by 9.3 percent and 10.8 percent on a monthly basis.
Chen Shihua, deputy secretary-general of the CAAM, said the growth rate in April was lower than in March, primarily because of a higher comparative base.
"The overall trend of steady growth is clear. We can see that sales in the first four months of this year have returned to pre-COVID-19 levels, exceeding those in the same period in 2019," said Chen.
Yet he warned that vehicle chip shortages may worsen in the second quarter, which may affect vehicle production globally.
Carmakers in China are not immune to this global crisis, so the association is "cautiously optimistic" about sales performance in coming months.
But Chen said China has laid a strong foundation for the world's largest automobile market to grow further thanks to its economic resilience and favorable policies on consumption.
While concerted efforts will be made to boost domestic consumption this month, the Ministry of Commerce said in a news conference in late April that to stimulate more car purchases, especially by introducing more car brands in rural areas, will be one of the highlights of the many policies this year.
Residents in China are already showing a growing enthusiasm for vehicle ownership. A record number of 9.96 million motor vehicles, including cars and motorbikes, were registered in the first quarter of this year, according to data from the Ministry of Public Security.
There are now 380 million motor vehicles in the country, and 465 million people hold driver's licenses, Li Jiangping, director of the Ministry's bureau of traffic management, said on Monday.
On top of that, 88 percent of the 25 Chinese carmakers observed by securities firm Shenwan Hongyuan saw their business grow in the first quarter. Guangzhou Automobile Group saw its net profit rise twenty-fold in the first quarter, according to its latest earnings report.
Thanks to the turnaround in the macroeconomy, supply chain, market demand and capital support, Chinese carmakers have put an end to declining net profits, which was largely due to the pandemic, said Wang Chikun, an independent economist.