Wuling launches the Macaron variant of its Hong Guang Mini EV on Thursday in Shanghai.
China's Wuling, the maker of the popular Hong Guang Mini EV, is using the influence of fashion to shape its image in the auto market.
Its launch of the popular two-seater's latest variant, the Macaron, last week in Shanghai was staged like a fashion show, and held in conjunction with fashion magazine Elle.
The model, priced from 37,600 yuan ($5,737) to 43,600 yuan, is available in three colors — avocado green, white peach pink and lemon yellow, which were chosen by Wuling with the help of Pantone, the global authority on color and design.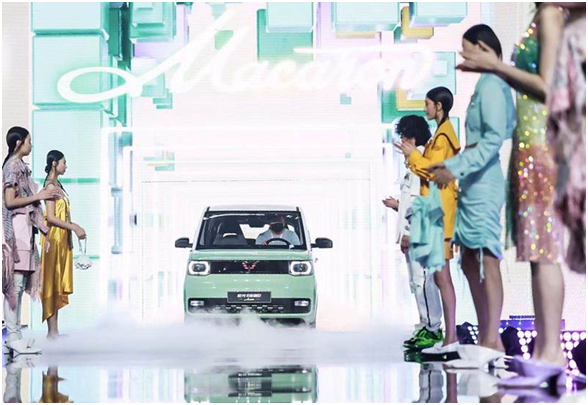 The carmaker also unveiled clothes in collaboration with fashion designer Masha Ma at the event.
Wuling's dalliance with fashion has not come by accident.
Since the Hong Guang Mini EV hit the market in July 2020, it is selling around 1,000 units on a daily basis.
Statistics reveal that over 70 percent of the buyers were born in the 1990s, and 60 percent of them are female, and like to embellish their vehicles to make them look distinctive.
"In the auto industry, it will take three years or so for a new vehicle to come out. So one of the few things we can do quickly is on color, and they like it," said Zhou Xing, a senior executive of Wuling in an interview last month.
The Hong Guang Mini EV is a cheap, basic, utilitarian vehicle, and so Wuling has sought to integrate elements of fashion and customization to make it more desirable among young people. And it's working.
Within two weeks of the Macaron's pre-sales starting in late March, the company received over 36,000 orders. Of them, 65 percent were female.
Wuling expects the variant to help boost the Hong Guang Mini EV's popularity among the young and further grow its sales. The company claims the model is "the people's commuting tool".
With a range of less than 200 kilometers, the model lags far behind Tesla and many other carmakers, but it is the only model to outsell Tesla's popular Model 3 since January 2021, thanks to its low price and ease of use.
"Most Chinese cities suffer from traffic jams and do not have enough parking, so people need something that is practical and convenient. And that is why we launched our vehicle," Wuling said in a statement.
In March, its sales hit over 39,000 units. In China, it has been the best-selling electric model for seven months in a row.
Its popularity is soaring in China, the world's largest market of electric cars and plug-in hybrids, and as a result it is drawing interest from elsewhere.
"Car dealers from over 150 counties and regions are asking us when we will sell cars there," Zhou said.
Wuling said it plans to export the vehicle into overseas markets, but has not released any dates.