The year 2020 is destined to be an extraordinary and difficult year, the Chinese domestic auto industry has been hit hard, with the industrial cumulative annual sales as 25.41 million vehicles, a down of 1.4% YoY. On January 8, 2021, JAC company announcement showed that the annual sales of JAC Group is 453,000 units, up 7.6% YoY. The steady and progressive development of JAC draws a successful conclusion for the year 2020.
Xinhua News Agency, a China's state news agency, reported as follows:
Transformation and upgrading, the main business develop with a variety of highlights.
In 2020, JAC further accelerated the pace for transformation and upgrading, and the sales of main business have achieved better performance.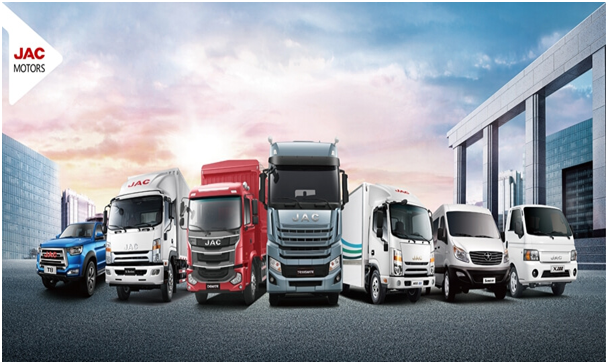 JAC Commercial Vehicles
Driven by policies such as infrastructure investment, consumer demand growth and overloading control, commercial vehicle segments maintained high growth trend, with cumulative sales of 298,000 units, up 15% YoY, . Among them, sales of light commercial vehicles increased steadily, up 11.1% YoY; while heavy commercial vehicles adhered to the differentiated competitive strategy of "key markets, key products and key customers" and continued to seize market opportunities, with cumulative sales up nearly 50% YoY, and major product lines such as trucks, tractors and mixers achieving high-speed growth.
Driven by policies to stimulate car consumption, passenger car segment showed a strong recovery. The SUVs and sedans grew by nearly 50% YoY. Models such as JS8, j7 and many other 3.0 era products have been launched and gradually recognized by the market.
MPV segment has achieved a cumulative sales of nearly 40,000 units. M5 C6 diesel version and M4 diesel version have formed a "twin star" combination. Products for business use have been launched in the market and the overall evaluation is positive.
The export to international markets has gradually recovered with a cumulative export of nearly 50,000 vehicles, of which over 40,000 vehicles were exported to the countries along "The Belt And Road", accounting for about 80% of the total export volume of JAC. Pickup truck export ranked third in Chinese auto industry; Van's annual exports increased by 50% YoY by seizing the opportunity in the ambulance markets; Passenger vehicles made a breakthrough in the strategic market and signed an exclusive distribution agreement with Saudi Arabia's distributor. Besides these, JAC Kazakhstan joint venture has achieved steady operation with further enhancing global markets recognition.
Over the years, JAC Group adheres to the key technology R&D route as "energy-saving, environmental protection, safety, intelligence, network and comfort". 3% to 5% of the annual sales revenue is invested in research and development, to improve the company's R&D level and constantly promote technology upgrading.
In 2020, JAC Group has obtained 681 new invention patents, and 542 authorized patents of various kinds, including 480 invention patents (88.56%), ranking among the leading Chinese automotive enterprises, and continues to transform advanced technology into continuous improvement of the user experience.
New energy technology breaks through the core technologies such as thermal runaway safety of high energy density NCM battery, high-efficiency mute "three-in-one" electric drive technology, and cost-effective heat pump air conditioning, etc. By the end of 2020, JAC Group has promoted the application of more than 170,000 units of new energy vehicles, with a cumulative mileage of 3.8 billion kilometers, and continued to maintain a leading position in the actual use of private battery electric vehicles.
In 2020, JAC Group adhered to crossover integration and deepened opening cooperation, and created a new development pattern of crossover integration at international standards.
JAC Volkswagen's new strategic cooperation project has officially landed. On June 11, 2020, JAC and Volkswagen signed a series of investment agreements and product portfolio framework agreements. At the beginning of December 2020, the project delivery was completed with Volkswagen becoming the shareholder in JAC Group Holdings and increased its capital to JAC Volkswagen. On December 8th, the completion of the R&D Center of Volkswagen (Anhui) Co., Ltd. and the construction opening ceremony of the manufacturing base were officially held in Hefei. The base is expected to be completed by the end of 2022 and the first model will be put into operation in 2023. The joint venture is expected to manufacture 350,000 to 400,000 vehicles annually by 2029, with a total revenue of 50 billion RMB Yuan.
The cooperation between NIO and JAC has yielded fruitful results. By the end of February 2020, EC6, the third model of cooperation, was officially released for SOP. At the end of April, the agreement on settling NIO China headquarter in Hefei project agreement was officially signed, and the signing further promoted the in-depth cooperation between JAC Group and NIO; On July 18, the 50,000th vehicle of the two cooperation models was officially off line. In the whole year, NIO manufacturing base has produced 44,000 units cumulatively, achieving an output value of 14.6 billion RMB Yuan. More than 75,000 units have been delivered since the start of production in 2018.
Targeting high-end manufacturing, high-end products and high-end brands, JAC Group and NIO jointly and innovatively created a new model of cooperation and development of the automotive industry.
With the wide application of new technologies such as internet, artificial intelligence, 5G and electrification, China's automobile industry is facing transformation and upgrading. Intelligent network and new energy are gradually growing into the future direction of the automotive industry. In the future, JAC will actively grasp the opportunity of the automotive industry "smart era", continue to carry out new technology research, strengthen R&D and application of intelligence, vehicle networking and other technologies, follow the technology upgrade trends of security and intelligence in market segments, and continue to enhance product competitiveness and brand reputation. We aim to provide global users with the best production and travel solutions, and to create a better blueprint with global partners.