Jing-Jin Electric's (JJE) latest heavy duty hybrid electric drive system achieved a record-breaking 35% fuel consumption reduction (or 54% fuel economy improvement) relative to national limits on a 26-ton truck, over C-WTVC test cycle. The C-WTVC cycle comprises 60% highway, 30% mixed, and 10% urban. The test was conducted on January 8th, 2021 at China's National Automobile Quality Supervision and Test Center in Hubei Province.
In China, heavy duty commercial vehicles account for a major share of fuel consumption and emissions. These vehicles, merely 1/7 of the total vehicle population, represent one half of the total fuel consumption, 84% of nitrogen oxides, and 90% of particulate emissions.
For heavy duty trucks, hybrid electric solutions are more attractive than battery-electric, as the latter is challenged with range and battery weight. However, a typical hybrid truck only saves about 15% of fuel, which hardly justifies the adding cost of such a system.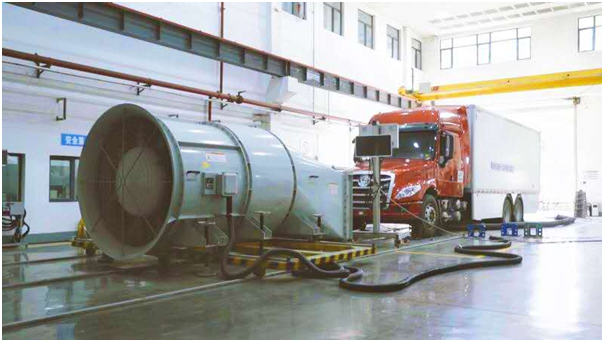 System Performance Test of JJE Series-Parallel Hybrid System with Heavy Duty 4-Speed Transmission
JJE has taken the efficiency of hybrid electric trucks to the next level with its dual motor, series-parallel hybrid system. The system includes a generator, a patented electromagnetic mode clutch, a traction motor, and JJE's latest heavy duty 4-speed transmission. The system's electric power rating is highly optimized, the operating modes – series, parallel, regenerative braking – are sophisticated, and its transmission's gears are minimized for the lowest possible transmission loss.
"Our new hybrid system significantly improves fuel economy and reduces emissions," said Ping Yu, JJE's Founder and CEO, "it also makes hybrid system economically attractive thanks to the high fuel saving. The new hybrid drive will pay for itself in 1.5 years."
Jing-Jin Electric has over 10 years of series production experience in commercial vehicle electrification. Today, over 110,000 high-power electric drives are running in JJE customers' trucks and buses, with 12 billion km operation on the road and 11 million km more added every day. JJE brings a wealth of production and quality knowledge to its customers.
Established in 2008, JJE is an electrified propulsion leader in components, assemblies, and systems for global automotive and commercial vehicle customers. JJE is a global supplier with full capabilities in developing mechanical and electrical content, and control software for all markets. JJE has production facilities in Michigan, United States, and Shanghai, China. For more information, visit www.jjecn.com.